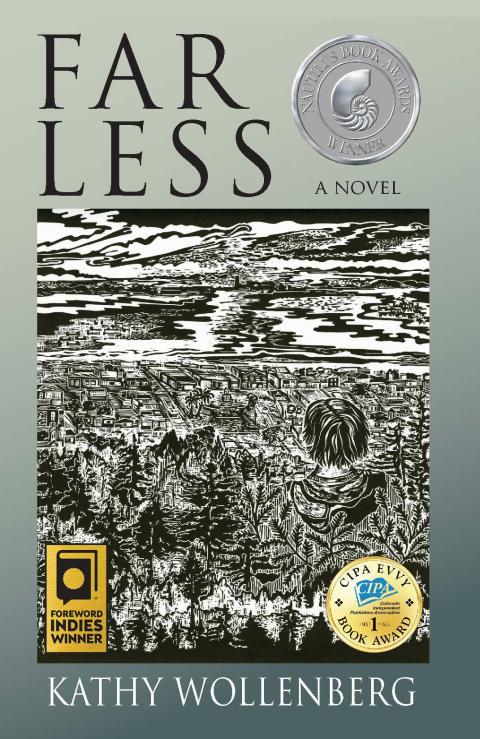 Celeste Sadler, Press Student Marketing
Far Less, Kathy Wollenberg's debut contemporary novel, has recently won the CIPA EVVY award. Far Less is one of three finalists in the Literary and Contemporary Fiction category of the 2022 CIPA EVVY Awards Book Competition.

This award will be Far Less's sixth literary award, having previously received two Silver Nautilus Book Awards, a Gold Forward Indies Award, and the Bronze and Gold CIPA EVVY awards.

The CIPA EVVY Awards is one of the longest running literary award competitions in the indie publishing world, having run for nearly 29 years. It is sponsored by the Colorado Independent Publishers Association (CIPA), along with the CIPA Education and Literacy Foundation (ELF). Unlike other award shows, CIPA is open to all types of independently published books regardless of membership status with the CIPA or their global geographic location with entries coming from all over the world.

Far Less is the story of seventeen-year old Jesse, who is homeless and living in the forest behind a local university alongside his drug-addicted mother and six-year-old sister. Jesse finds solace in climbing the towering redwood trees so he is able to observe the world around while escaping from his reality on the ground. Diligently showering, doing his laundry and homework, Jesse is determined to keep his circumstances a secret from his classmates. But all that effort doesn't stop one girl from discovering the truth.

Kathy Wollenberg is a Humboldt local and an alum of Cal Poly Humboldt. She graduated from HSU with a bachelor's degree in geology.

Far Less is available to download for free in pdf and ebook forms on the Press website. It is also the only book that the Press has available in braille.

To download the pdf or purchase the book, check out; https://press.humboldt.edu/far-less
To download the ebook, visit https://press.humboldt.edu/ebook-downloads 
To view an interview with the author, visit https://www.youtube.com/watch?v=KvD3Ofpwk10 
-February 2023