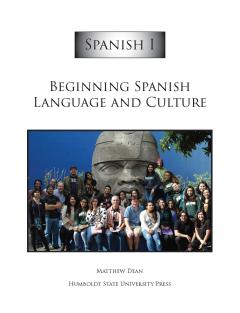 The Library at Cal Poly Humboldt is always finding ways to mitigate the cost of textbooks for our students. We offer textbooks on reserve, InterLibrary Loan (ILL), and digital books that help students succeed in their classes. What about the millions of people who aren't enrolled in Cal Poly Humboldt or can't access our library physically? We believe in open access, so the Press at Cal Poly Humboldt makes textbooks available to everyone anywhere for free. With an internet connection, entire textbooks are easily downloaded.
Enter Spanish I: Beginning Spanish Language and Culture by Cal Poly Humboldt Professor Matthew Dean.
This peer-reviewed textbook was designed with U.S. college students in mind but can be used by any beginning Spanish speaker. Themed chapters are divided into 8 sections. Each section has a set of learning objectives which is further separated into three types of assignments:
-Para estudiar en casa (with detailed explanations)
-Para practicar en casa (homework exercises)
-Para practicar en clase (paired and group classwork activities)
The book's explanations and primary input are written to be easily comprehensible and the individual exercises are geared towards acquisition of form and function. The communicative classwork exercises promote interpersonal exchanges between students. The digital copy includes some embedded audio files, and The Press at Cal Poly Humboldt is developing a website to house many more resources to accompany the text.
According to PlumX, the metrics tracker for the Digital Commons publishing platform, Spanish I: Beginning Spanish Language and Culture has been downloaded 32,634 times in the two years it has been available. That is over six times our Cal Poly student population! The downloads are initiated all over the world with significant numbers coming from the U.S. West and East Coasts, the Mid West, and the United Kingdom.